With Fall Comes Falling Rates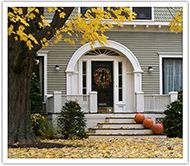 In the 3rd quarter, housing activity was as slow as the dog days of summer. But in October, the autumn air came and with it brought the lowest home loan rates in over a year, according to Freddie Mac.
A market-wide Stock selloff resulted in relief for the Bond market. And since home loan rates are tied to Mortgage Bonds (also called Mortgage Backed Securities), this prompted more activity in the housing market than in recent memory.
Early figures from the Mortgage Bankers Association reported that home loan applications rose week over week early on in the 4th quarter, with refinances accounting for the majority of the activity. Despite this, refinances were still down by almost 30 percent during the same period one year ago.
Higher home prices were largely blamed for deterring first-time homebuyers from purchasing during the usually busy summer months. On the other hand, higher prices and values led to an inverse benefit for current homeowners, who were previously unable to refinance due to insufficient home equity on capped loan limits.
Home builders also remain positive about the housing market, according to the National Association of Home Builders Housing Market Index. Though builder sentiment dipped in October after rising for four straight months from June through September, the NAHB chairman stated that this was in line with the gradual pace of the housing recovery.
Sales of newly built homes took a huge 18 percent leap from July to August, but this figure may be further revised downwards, as reported in a mid-October CNBC report.
As the year comes to a close, many prospective homebuyers, as well as those in the industry, await 2015 with anticipation. Will next year bring looser credit guidelines to encourage more home purchases? Will rates stay low and prices stay high? Check back for a winter recap in the next issue of the Homes & Money Newsletter, coming February 2015.